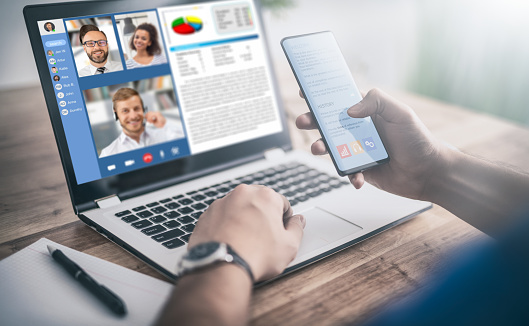 Many of us have been working from home for over two years due to the pandemic, and if you haven't yet adjusted your workspace to accommodate your needs, it's probably time to do so. Whether you've set up in the guest bedroom, on your living room couch, or in a walk-in closet, you may need to make an extra effort to type comfortably, meet online, or simply concentrate. Sometimes it means purchasing a new desk, lamp, or monitor; other times, it simply means locating a household item that will make life easier.
Setting up a home office with the right tools is one of the most difficult aspects of working from home, but once you've got everything in place, it's easier to get your work done. You can have a comfortable and productive work-from-home setup even if you don't have a lot of space or a dedicated room to turn into a home office. You only need a table, a chair, and a few key pieces of technology, such as a cloud rendering system.
I've put together this handy list of the best work-from-home technology to help you boost your productivity. Everyone needs reliable internet and a laptop to work remotely, but we also recommend getting a monitor, so you have a larger screen to work from and a good keyboard and mouse. You'll be much more comfortable working with these gadgets than you would if you had to squint over your small laptop screen all day.
Here are some of the coolest gadgets you can use while working from home:
Logitech MX Master 3 wireless mouse
For a good reason, Logitech's MX Master Wireless Mouse is our top pick for the best computer mouse. It has an ergonomic design that makes it comfortable to use for extended periods of time, and you can customise the functions of its buttons as well as the speed of the scroll wheel. I've been using this mouse at work for several months now, and it's significantly reduced the amount of wrist and hand fatigue I experience at the end of the day. It's also wireless, making it an ideal mouse for your home office.
Logitech MX Vertical wireless mouse
The Logitech MX Vertical has an odd appearance, and an even stranger feels when you put your hand on it. However, it becomes second nature after a few days, and it is noticeably more comfortable than standard mice, especially if you use computers all day. I had left an MX Vertical at the office before the pandemic, and I ventured back into the city during the pandemic from the safety of my suburban home to retrieve it for my home setup.
Steelseries QCK Heavy Mousepad
I had hoped for a larger, thicker mouse pad for PC gaming, but I'd struggle to be productive without the Steelseries QCK Heavy mousepad. It is roughly twice as thick and twice as large as a typical cheap office mousepad, the cloth feels premium and smooth, and it is washable. It gives you a lot more room to comfortably swing your mouse around, and it has a surprisingly positive impact on your comfort without cost.
Grovemade Desk Pad
I used a towel as a desk pad when I first started working from home to protect my table from wear and tear. After a few months, I began looking into desk pads and came across this one by Grovemade. It's made of natural linoleum with a cork backing for cushion and to keep it from sliding around on the desk. It is also available in wool and leather, but both are more expensive. Small ($40+) to extra large ($90+) sizes are available.
Twelve South Curve Laptop Stand
I purchased a laptop stand about nine months into quarantine after using books, boxes, and other odd objects to prop up my laptop during video calls. This laptop stand from Twelve South is sturdy, matches the design of my MacBook Pro, and keeps my laptop at the ideal height for video calls. It also keeps my laptop from overheating due to its open bottom, which allows for air and circulation.
Logitech K380 Multi-Device Bluetooth Keyboard
In the office, I've been using Logitech's K380 Multi-Device Bluetooth Keyboard for nearly a year. I like how compact it is, and how responsive the keys are for typing. Because I rarely use the number pad on large keyboards, I prefer this no-frills option. It's also wireless, so my small home office setup isn't cluttered with cables. It's an excellent low-cost option for around $30.
Logitech Ergo K860
If you intend to work at a desk, an ergonomic keyboard is essential, and my personal favourite is the new Logitech Ergo K860. For the past 25 years, I've used many ergonomic keyboards, but none have performed as well as this one. I like how the raised wrist support keeps my hands and arms in the proper typing position. The split keyboard takes some getting used to, but after a day, I typed away with few typos.
The keys are well-placed and require little travel distance, resulting in less strain on your hands and wrists. It's wireless so that you can move it easily, and it supports up to three Bluetooth devices — I love being able to quickly switch between my MacBook Pro, iPhone, and iPad. My wrist pain has decreased since I began using this keyboard regularly.
Kensington ErgoSoft Wrist Rest
I've been using Kensington's ErgoSoft Wrist Rest to reduce wrist fatigue. It's a small gel-filled wrist pad that you can adjust to fit your needs. The sticky underside prevents it from shifting around on the table, but having the option to angle or remove it as needed throughout the workday is ideal.
Amazon Echo Dot
Although the sound quality cannot compete with that of genuine stereo speakers, the Echo Dot suffices for casual background listening while I work. It's also useful for setting reminders and alarms, getting quick answers to questions, and receiving news and weather updates. And the best part? Its dependable voice control means you never have to take your hands off the keyboard.